What makes MWHI special?
The patented Multi-Wavelength, High-Intensity (MWHI) blue light technology uniquely combines two or more antimicrobial blue light wavelengths: 405 nm + 430-470 nm.
This UV-free and LED-based light produced by Spectral Blue devices kills microbes fast but is completely safe for people and materials. Based on tests and measurements in actual use, it's the world's most effective safe disinfection system for indoors surfaces and air.
Video - how Spectral Blue MWHI light affects microbes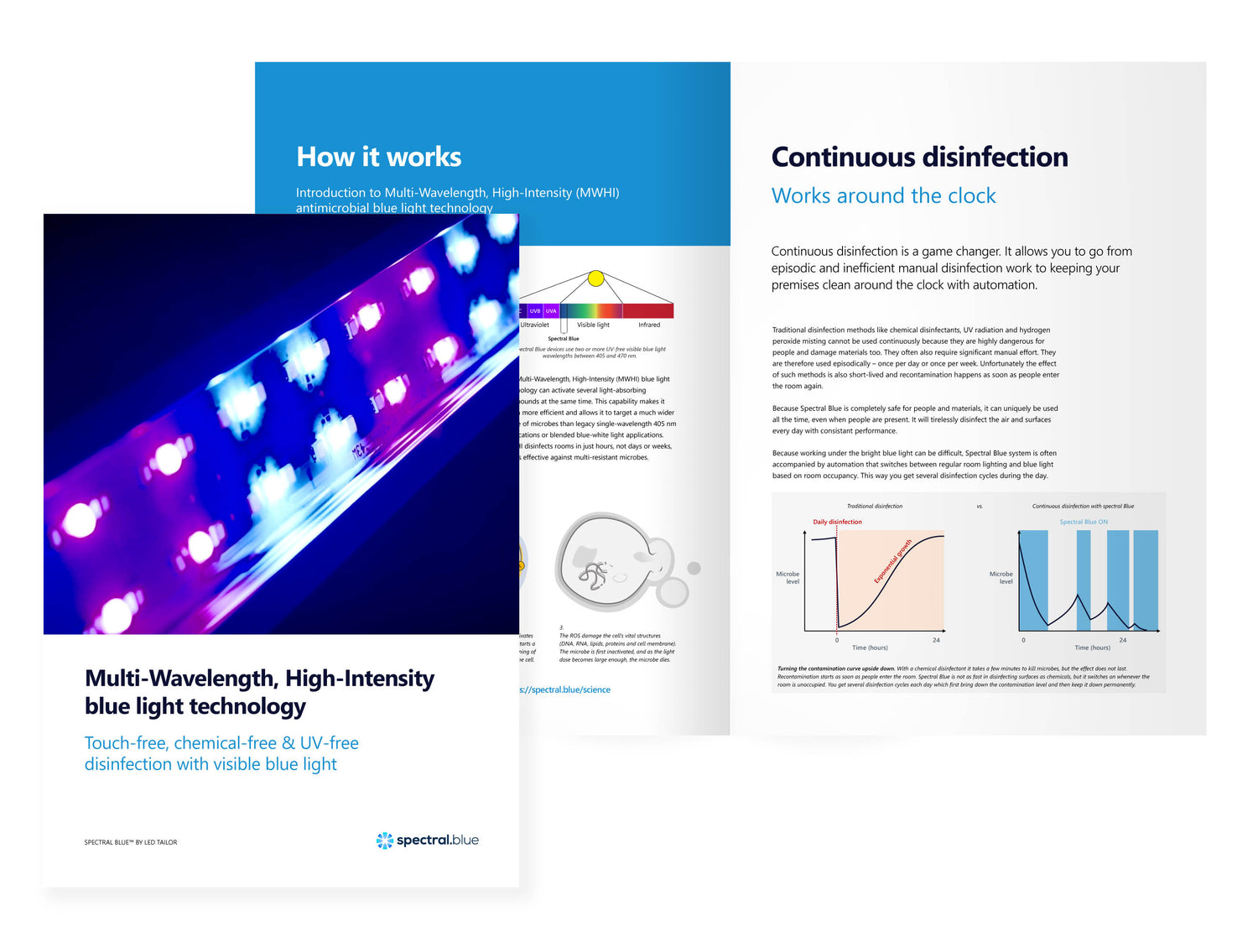 New! Download MWHI technology brochure
Click to dowload a pdf copy of our technology brochure, explaining how automatic and continuous Spectral Blue disinfection works.
How it works
Efficacy
Health & safety
Sustainability
Download PDF brochure
SARS-CoV-2 and Influenza A viruses
Spectral Blue MWHI technology is effective against SARS-CoV-2 virus, the agent behind COVID-19. Third party laboratory tests show that the system will inactivate 90-99% of viruses already in 15 minutes.
Other lipid-enveloped viruses such as Influenza A are also susceptible to Spectral Blue MWHI light.
Benefits of MWHI
Fastest blue light disinfection

With MWHI, you can disinfect complete rooms in just 2-8 hours, not 8 weeks like with traditional 405 nm systems.

Effective on all bacteria, yeast and mold

Two blue wavelengths kill a wider range of microbes than traditional 405 nm systems. For example certain strains of MRSA can only be killed with MWHI blue light.

Allows reducing the use of chemicals and UV

The high disinfection performance of MWHI makes it a safe alternative for dangerous chemicals and UV light.
The disinfection times shown in the graph for traditional 405 nm are based on statements on the manufacturers' web and print materials. The disinfection time for Spectral Blue is based on laboratory tests carried out by independent labs and our OEM partners.