Spectral Blue™ is an automatic and continuous disinfection system that uses Multi-Wavelength, High-Intensity (MWHI) blue light to eliminate microbes in the air and on surfaces. The patented UV-free and chemical-free technology is made in Finland.
Your cleanroom specialist
Jarmo Ikonen, Sales Director
+358 40 849 61 17
jarmo.ikonen@ledtailor.fi
Major sources of microbial contamination in cleanrooms
People flow

70-80% of contamination found in cleanrooms can be human-associated.

Material flow

5-15% of contamination found in cleanrooms can result from the handling of materials, equipment and water.

Air flow and ventilation

10% of contamination found in cleanrooms can be associated with problems in airflows and ventilation.
Changing rooms and material airlocks
Microbiological contamination in cleanrooms can often be traced back to changing rooms and material airlocks.
Install Spectral Blue devices in these areas to automatically reduce the risk of contamination entering production areas. Continuous use keeps these areas clean 24/7, providing superior performance compared to daily manual disinfection.
Read what our customers have to say about Spectral Blue:
NextPharma: 90% reduction in contamination in production area.
Phillips-Medisize: 80% reduction in chemical disinfection while keeping same high level of hygiene.
Featured customer references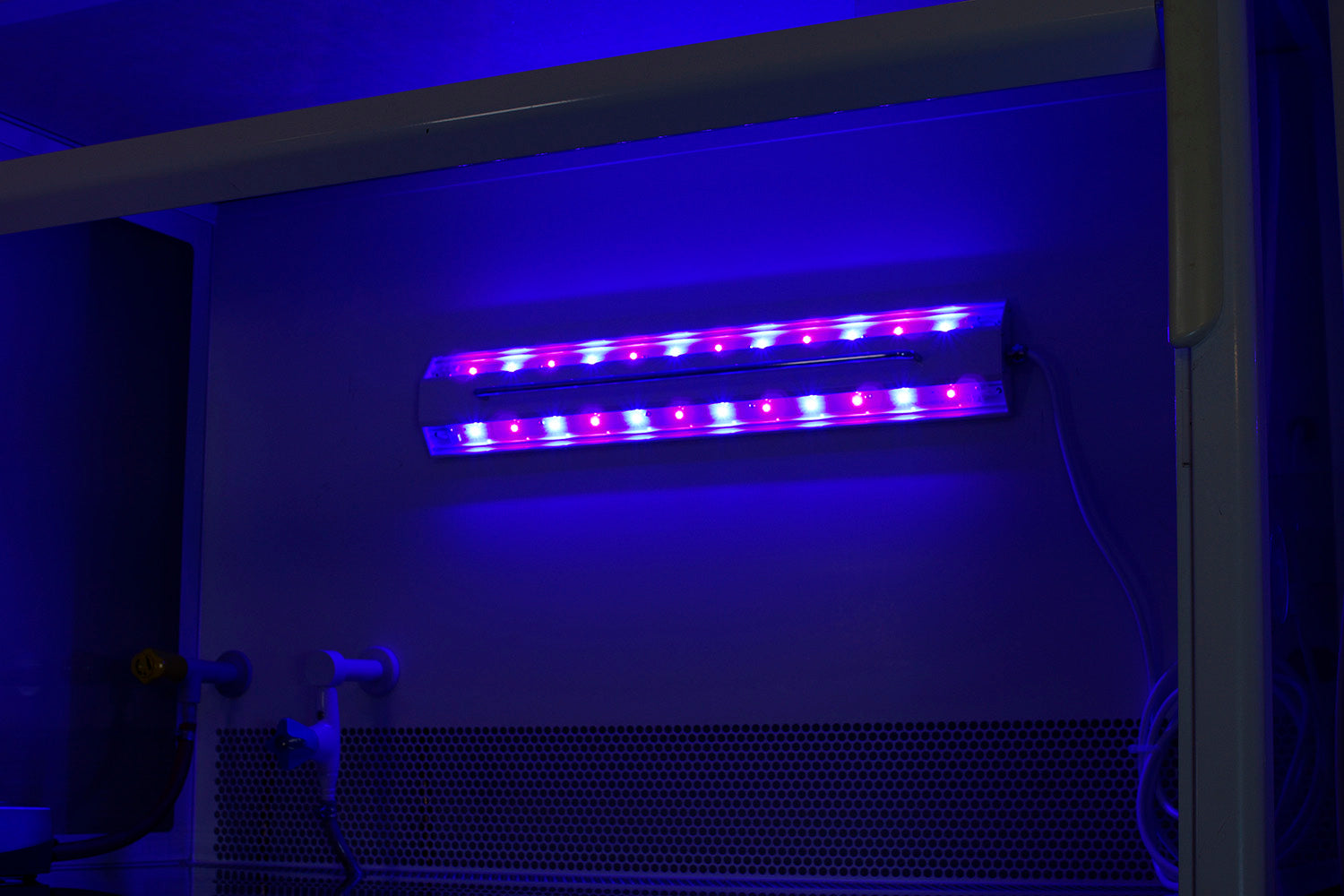 A perfect replacement for dangerous UVC inside equipment
UVC tubes commonly used in biosafety cabinets and other cleanroom equipment are dangerous to people and materials. Their short lifespan and the mercury they contain also make them an environmental problem.
The good news is that you can replace old UVC devices with an alternative that is 100% safe for people, materials and the environment: Blue light disinfection by Spectral Blue™
Spectral Blue is chemical-free, UV-free, mercury-free, ozone-free and maintenance-free.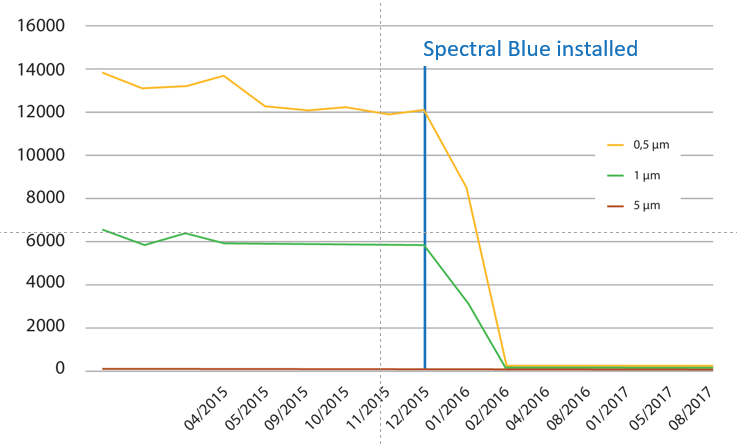 Reduce airborne particles with blue light
Based on years of monitoring, our customer has shown that Spectral Blue can reduce also the amount of particles in the air.
Salofa Oy, a medical supplies manufacturer, installed Spectral Blue in their facility in 2015.
The number of particles less than 1.0 μm in size was quickly reduced by more than 98%. The number particles of 1.0–5.0 μm in size was reduced by over 60%. Click to see the complete graph.
Based on unique Multi-Wavelength, High-Intensity (MWHI) blue light technology
The patented technology used by Spectral Blue makes blue light disinfection fast and effective against even the most difficult bacteria found in ultra-clean environments.
Interested? Contact us for more information